This coffee table  combines Pewter Metal on a geometrically-shaped interwoven base with a Tumbled White Onyx top with shades of grays, creams and golds for an eclectic blending of elegant, organic materials in a medley of rich neutrals.
An eclectic blending of colors, textures, and materials in a vibrant collection of one-of-a-kind artistic pieces,  is meant to inspire you and fuel an experience of self discovery, inspiring a renaissance in your home. Each piece is unique with its own story.
Features: Round shape
Metal base
Onyx top
Levelers
Material: Tumbles White Onyx with Carbon Steel Metal
Finish: Silvers
Finish: Pewter metal base with tumbled white onyx
Style: Modern-Contemporary
42X42X15h
Item Number: HTHK-5934-80111-00
View full details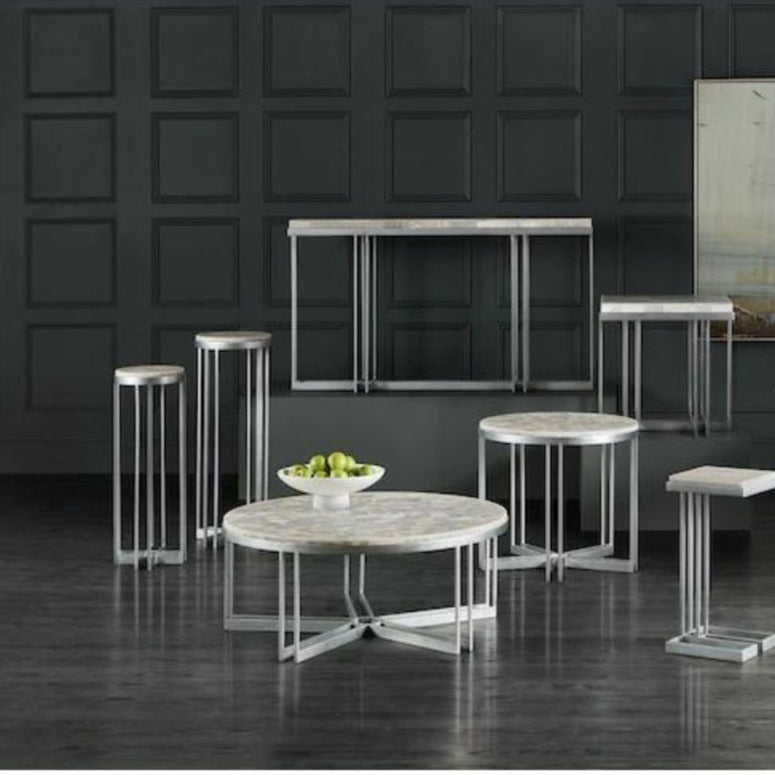 Design Consultations
We offer personalized service every step of the way, from ordering to delivery. We can help you think through your space, find specific pieces that fit the style of your home, and customize fabrics. We can work off photos and frequently do home visits in newport beach, costa mesa, and irvine.